Nature reserves, dramatic caves, medieval quarters and several hundred miles of coastline!
Places to visit in Puglia
Puglia, a southern region forming the heel of Italy's "boot," is known for its whitewashed hill towns, centuries-old farmland and hundreds of kilometers of Mediterranean coastline. Puglia also known by the name Apulia, has a population of around 4 million.
Capital Bari is a vibrant port and university town, while Lecce is known as "Florence of the South" for its baroque architecture. Alberobello and the Itria Valley are home to "trulli," stone huts with distinctive conical roofs.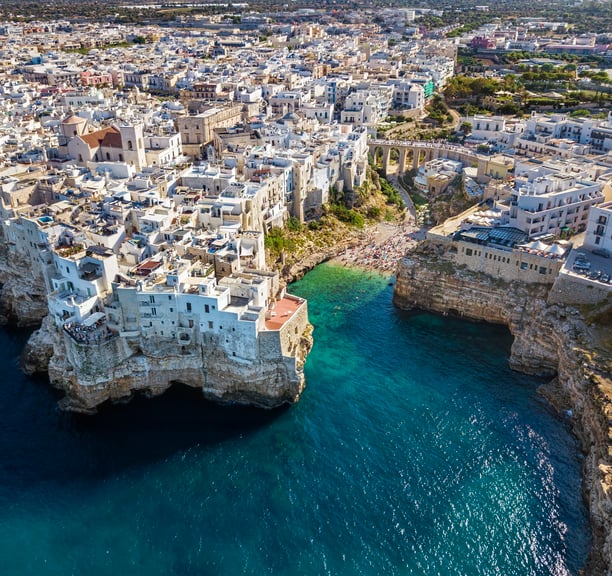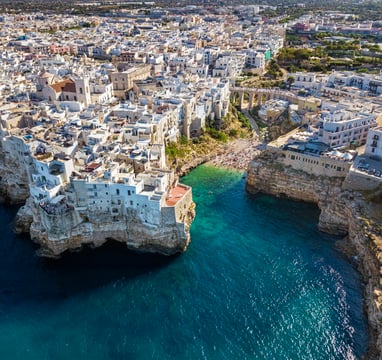 Stretching along Italy's longest seafront, Bari Vecchia (Old Bari) is the ancient heart of the city. Visitors are accompanied by the aroma of clean laundry and freshly-baked focaccia and by the sight of fresh pasta drying in doorways, as they walk from Arco Basso to the area around Piazza Ferrarese, Piazza San Pietro, and the Monastery of Santa Scolastica. Other must-sees include Piazza Mercantile, the Colonna Infame, and the Library of Santa Teresa dei Maschi.
Bari is a port city on the Adriatic Sea, and the capital of southern Italy's Puglia region. Its mazelike old town, Barivecchia, occupies a headland between 2 harbors. Surrounded by narrow streets, the 11th-century Basilica di San Nicola, a key pilgrimage site, holds some of St. Nicholas' remains
Ostuni is a city known for its whitewashed old town. Ostuni Cathedral combines Gothic, Romanesque and Byzantine elements, while the arched Porta San Demetrio is one of 2 remaining medieval gates. The Civic Museum and Archaeological Park houses Ostuni 1, the skeleton of a woman from Paleolithic times.
Whitewashed buildings, originally the practice of lime-washing the town's served as a means of lightening up the dark, medieval maze like streets but in the 17th century it became a matter of life and death and was used to limit the depredations of the plague.
Alberobello known for its Trulli, whitewashed stone huts with conical roofs. The hilltop Rione Monti district has hundreds of them.
The 18th-century Trullo Sovrano is a 2-level trulli. Furniture and tools at the Museo del Territorio Casa Pezzolla re-create life in the trulli as it was centuries ago. Southwest of town is the Casa Rossa, a WWII internment camp.
With narrow pedestrianised streets, little shops selling local produce and a few nice cafes and trattorie offering al fresco dining, Alberobello is a great day out for families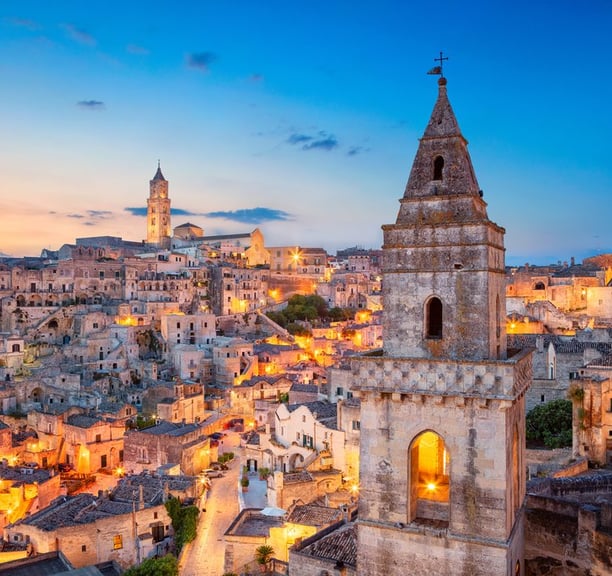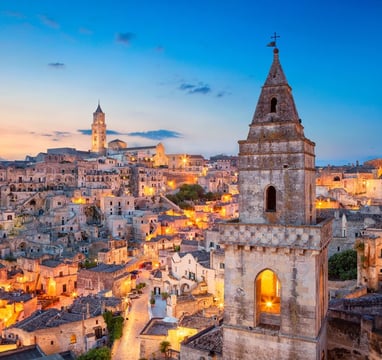 Lecce known for its baroque buildings. In the central Piazza del Duomo, the Cattedrale di Lecce has a double facade and a bell tower.
The Basilica di Santa Croce features sculptures and a rose window. Nearby are the Sant'Oronzo Column, a Roman column topped with a bronze statue of the city's patron saint, and the sunken Roman amphitheater.
"Florence of the south" : with this definition, coined in the nineteenth century by the German historian Ferdinand Gregorovius, Lecce, the capital of Salento , has kept all its fascinating architecture unchanged.